Customer Feedback
Webinars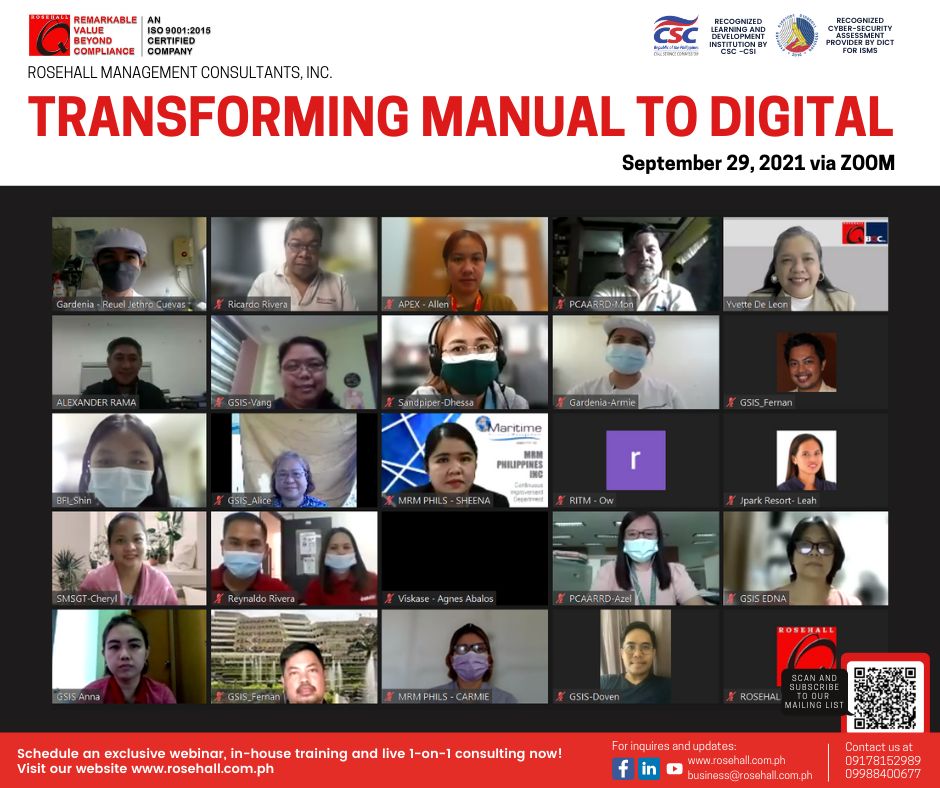 Angeles University Foundation
"This course will help in the assessment of the your current practice before making a transition, and if in case transition is already at play, it can affirm and give additional info to improve better transformation."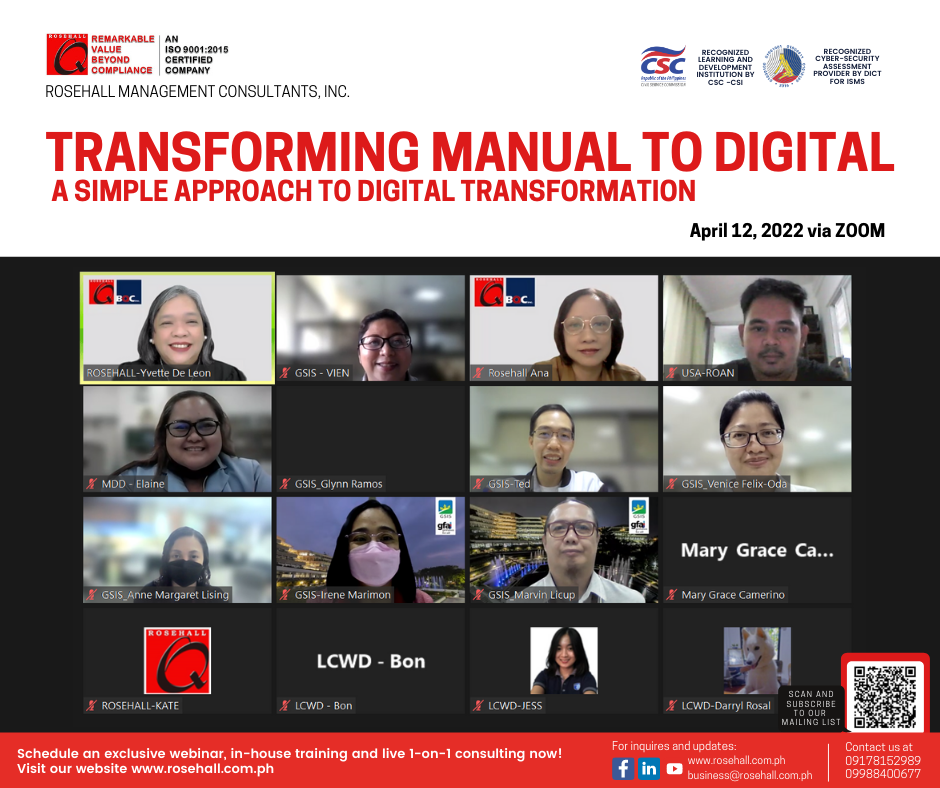 Government Service Insurance System
"This course will widen your knowledge and understanding of Digital Transformation."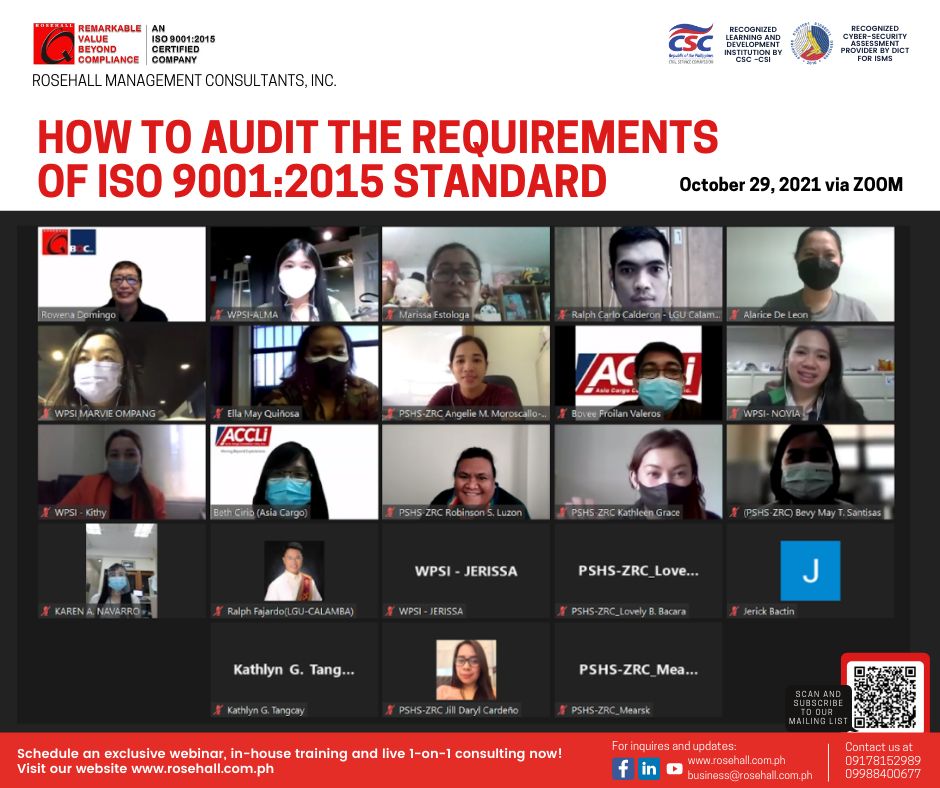 Wallem Philippines Shipping, Inc.
"Rosehall is indeed a credible source for trainings since you really invite guest that are the subject-matter experts."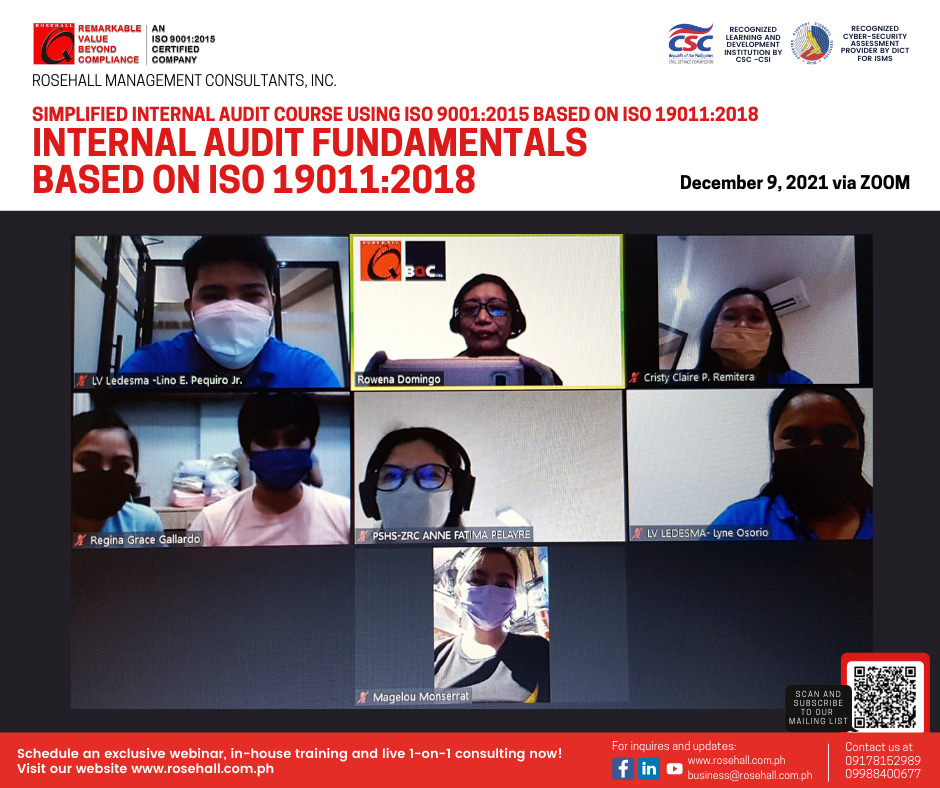 LV Ledesma Construction Inc.
"The speaker was able to explain clearly and provide sample situations related to our industry."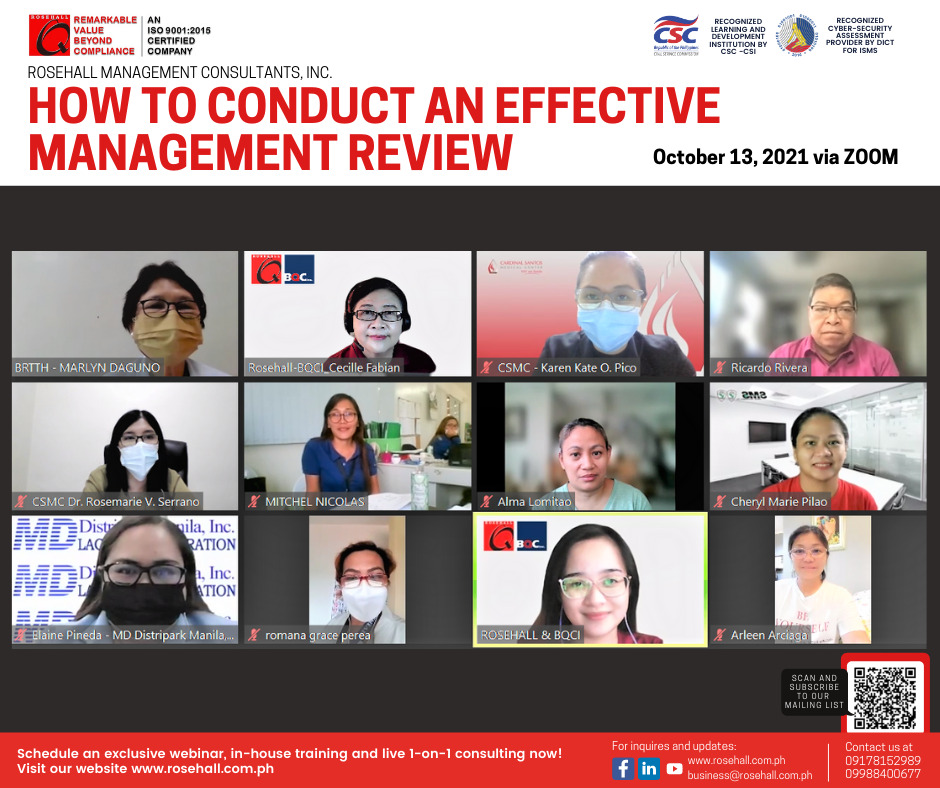 SMS Global Technologies Inc.
"ROSEHALL webinars give a high-level gist of the topics. It serves as a guide for the detailed implementation in the organization."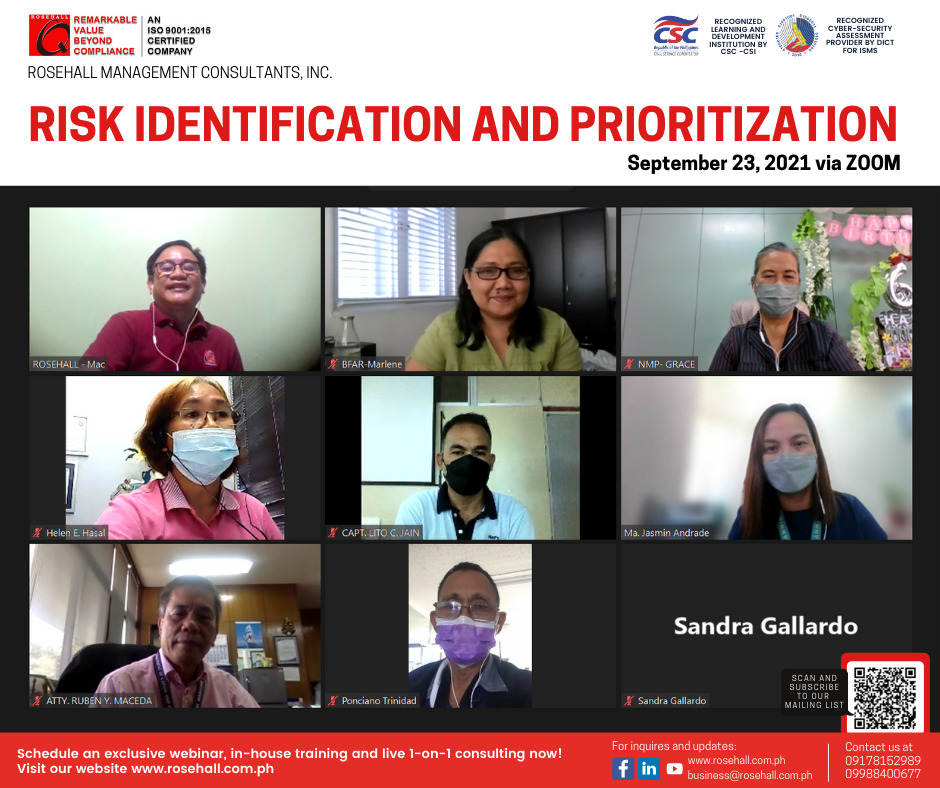 Bureau of Fisheries and Aquatic Resources
"My knowledge and understanding on risk and opportunity assessment was enhanced after attending the training on risk identification and prioritization conducted by Rosehall."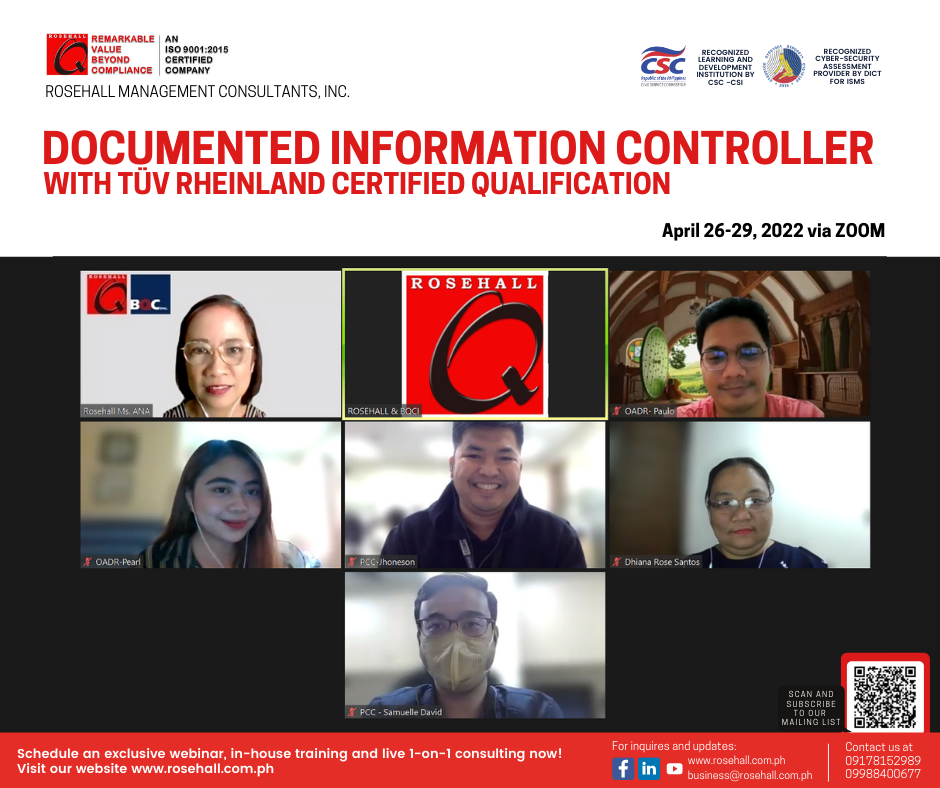 Department of Justice — Office for Alternative Dispute Resolution
"Rosehall is an organization with diverse people who are very accommodating and efficient. The training they offer are engaging and very informative."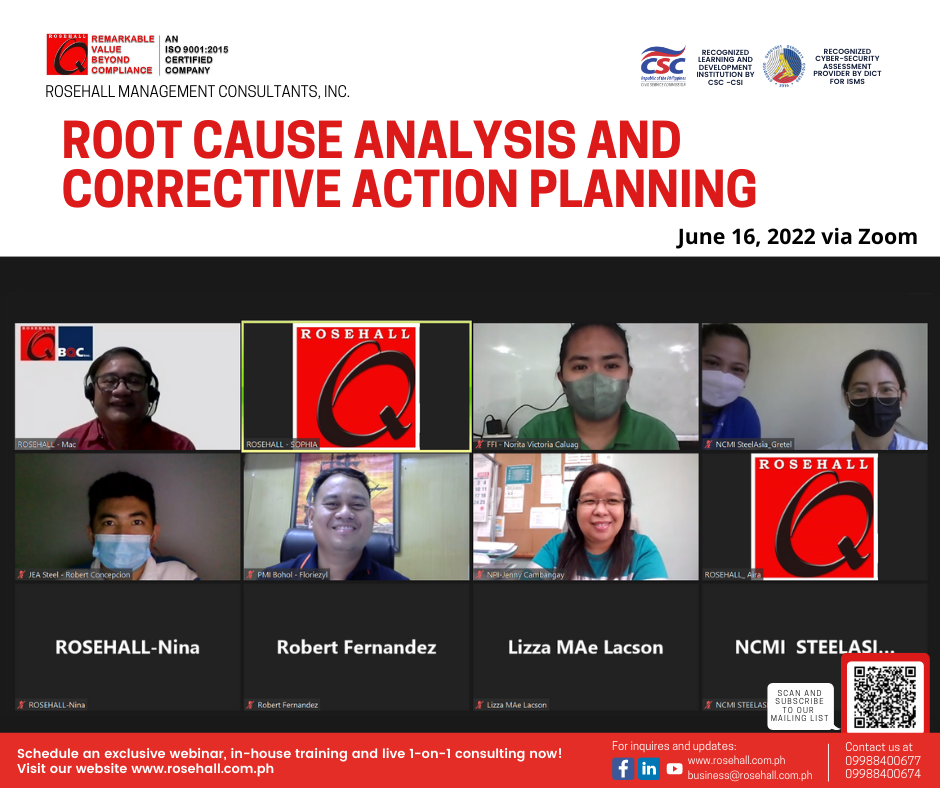 PMI Colleges Bohol
"The training gives added insights into how root cause analysis is done."
JEA Steel Industries, Inc.
"It is a very clear explanation of the topic and very informative regarding ISO clauses."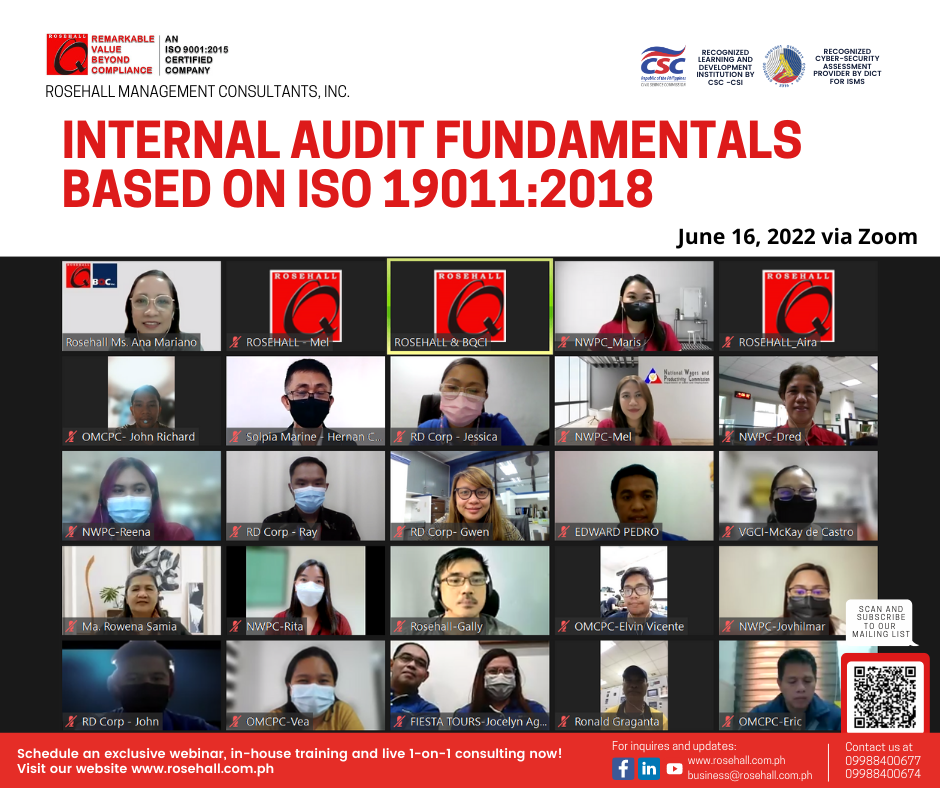 National Wages and Productivity Commission
"The speaker is very knowledgeable, she has a clear and digestible way of explaining. The webinar is very informative and you will learn a lot."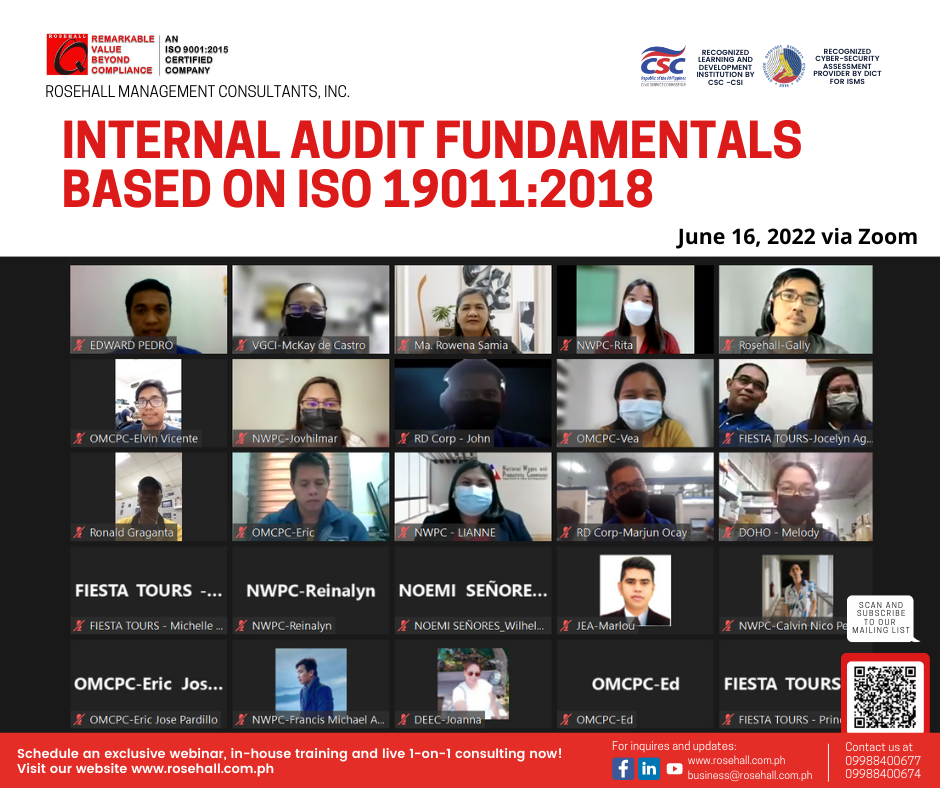 National Wages and Productivity Commission
"The speaker is very knowledgeable, she has a clear and digestible way of explaining. The webinar is very informative and you will learn a lot."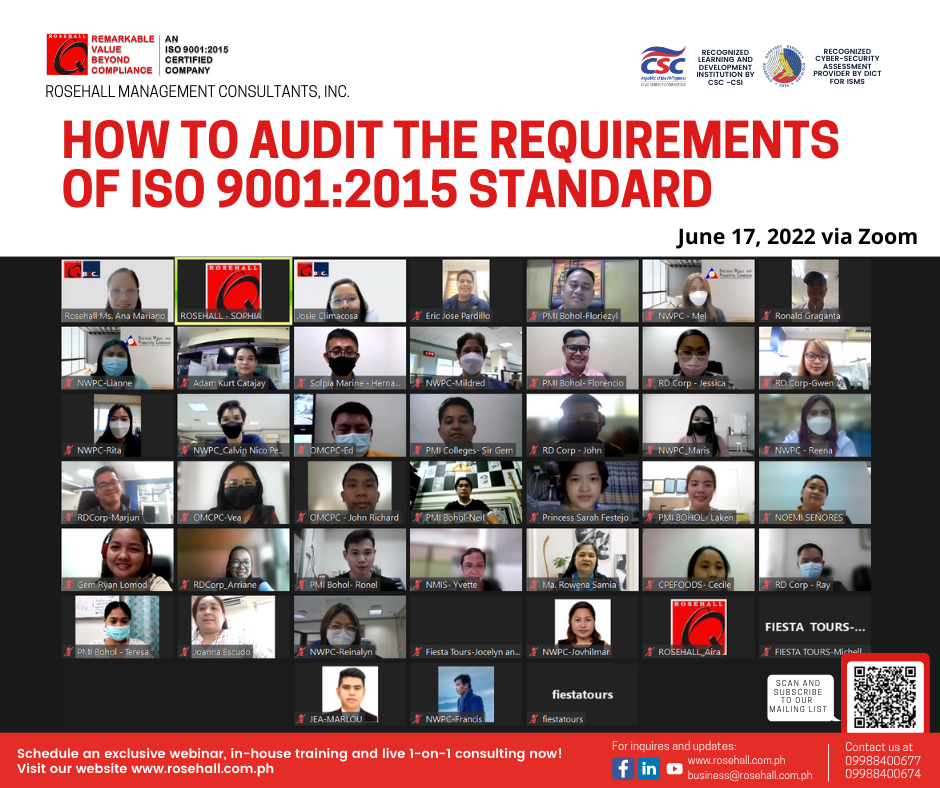 PMI Colleges Bohol
"This consulting firm and consultant is adept at delivering the necessary information and technicalities about the courses they are offering."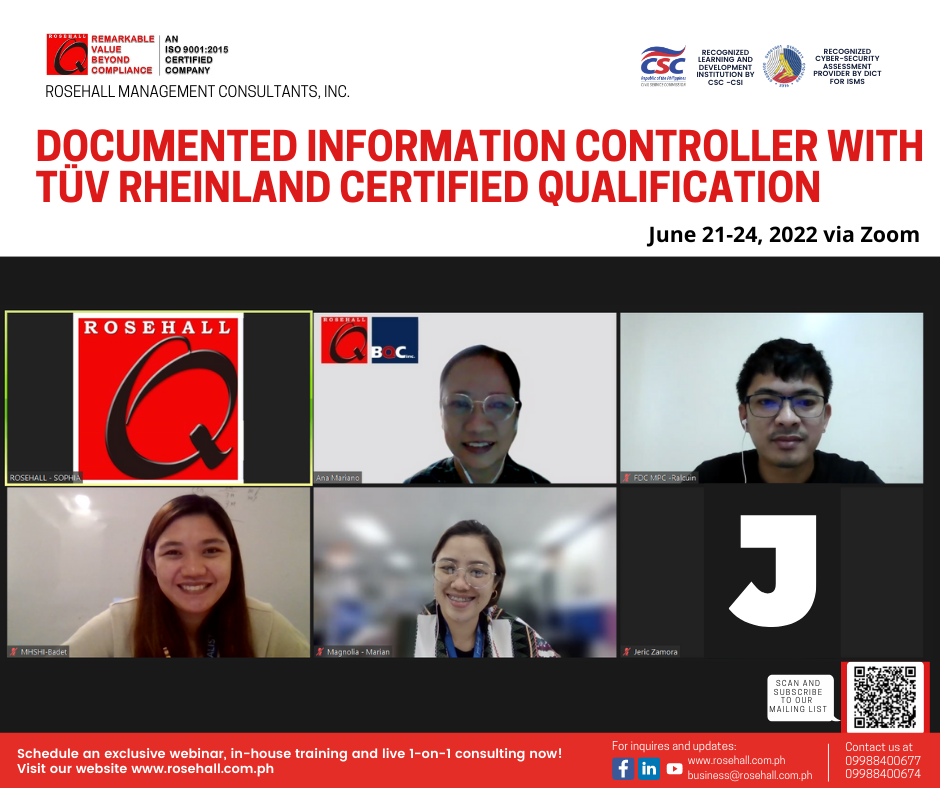 Metro Health Specialists Hospital
"I am encouraging everyone to attend and participate in the DIC Certification webinar at Rosehall as they impart essential knowledge that is needed to learn by the participants."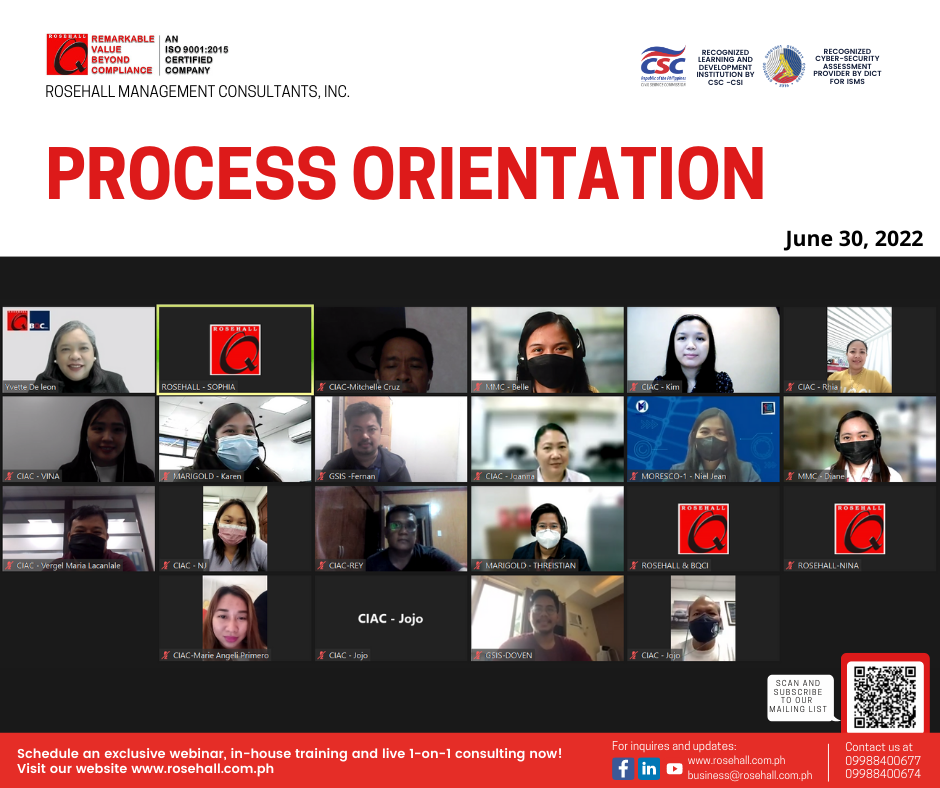 Clark International Airport Corporation
"Rosehall's training activities have always been very helpful in our implementation of our QMS and in improving it. Rosehall makes all topics easy to understand and therefore easy to implement."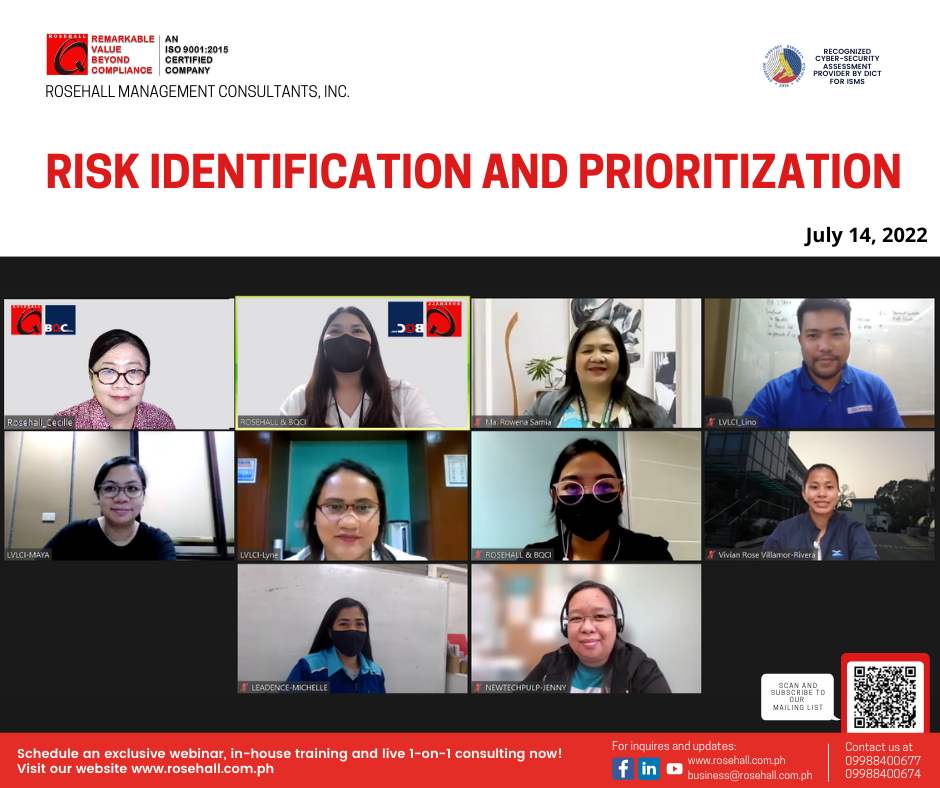 Newtech Pulp, Inc
"If you have difficulty establishing or maintaining your risk and opportunities, register and join this training! You will learn how to do it step by step. You will also realize its importance, especially to the business entity as a whole.."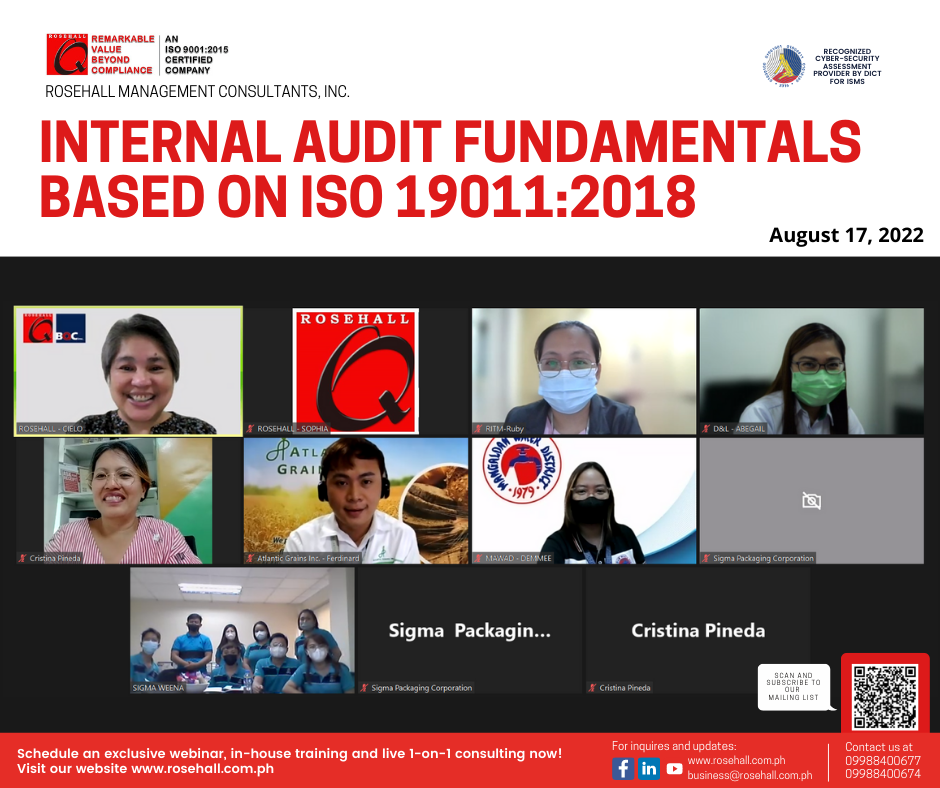 Mangaldan Water District
"Rosehall Management Consultants, Inc. is a nice avenue for agencies or organizations, government or private, in guiding, planning, or continuing their management systems. You will learn a lot in this webinar course. It will develop and widen your knowledge of being an internal auditor. Thank you to our facilitator who imparted her knowledge to us."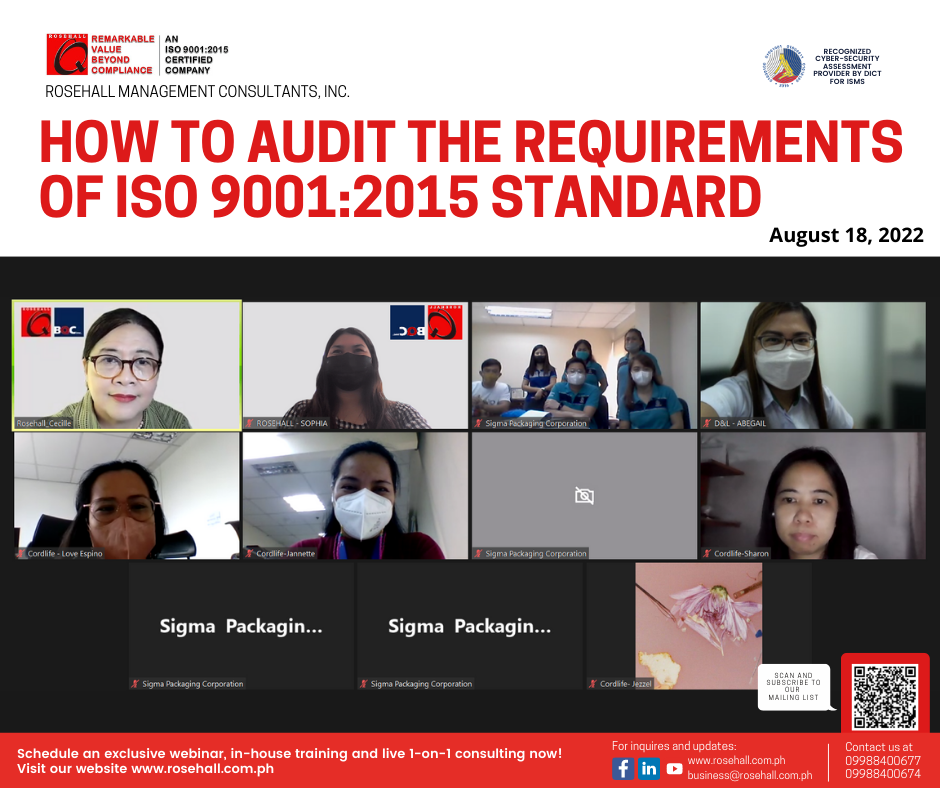 Cordlife Medical Philippines Inc.
"Take this course if you want a detailed discussion and specific examples of the requirements of ISO 9001:2015. It is also great training to help auditors on what to look for as evidence of conformance."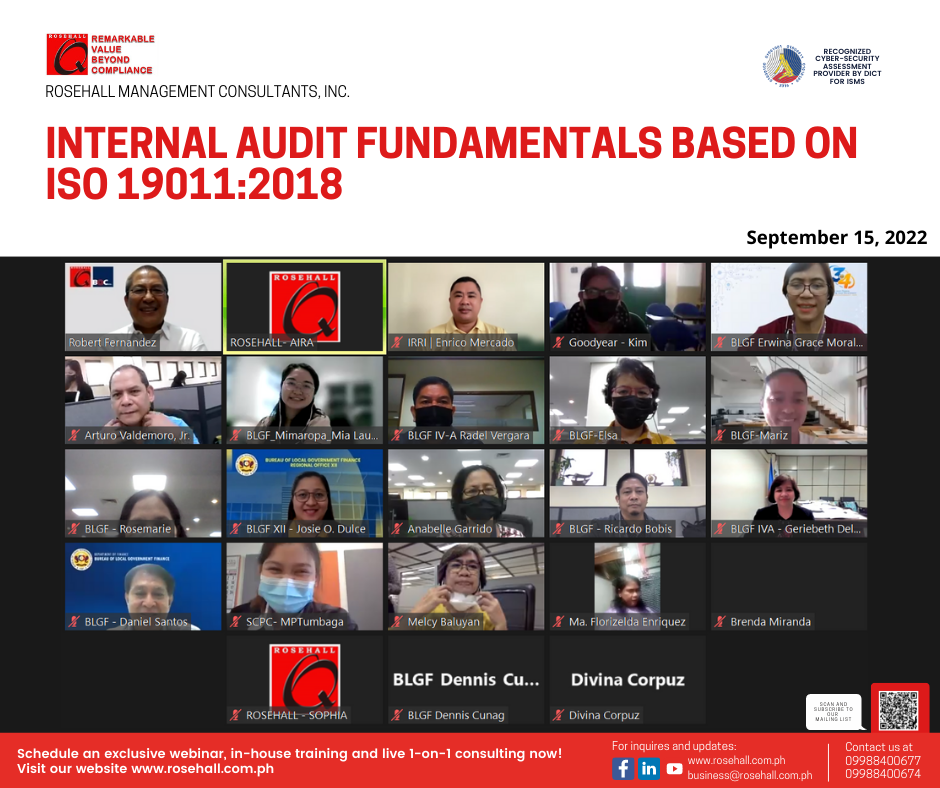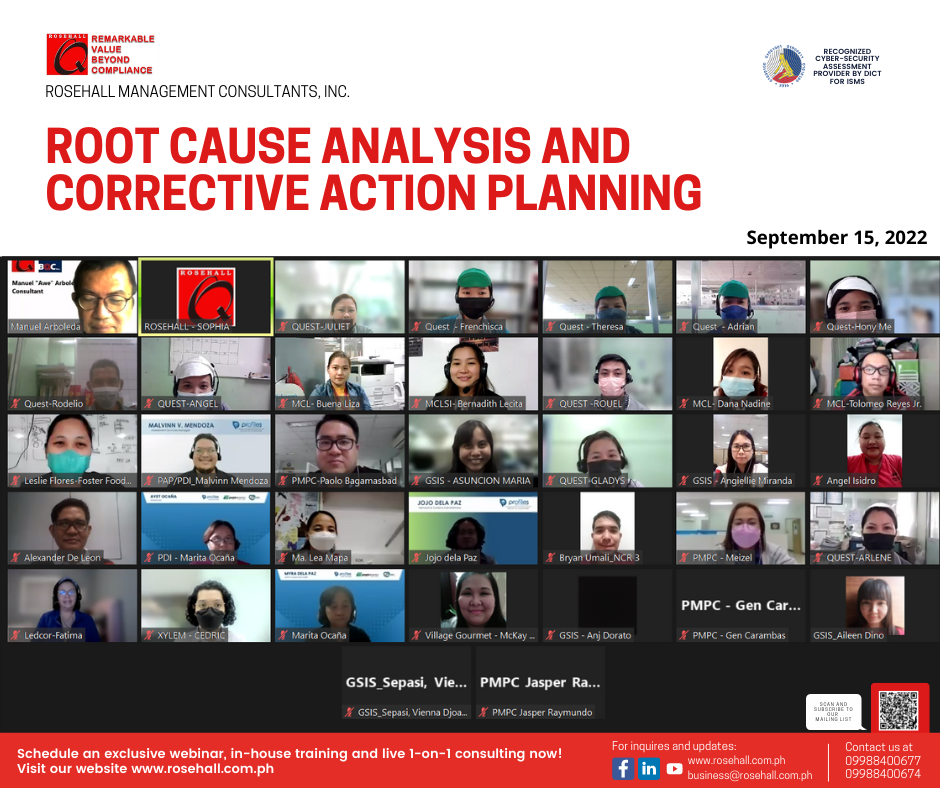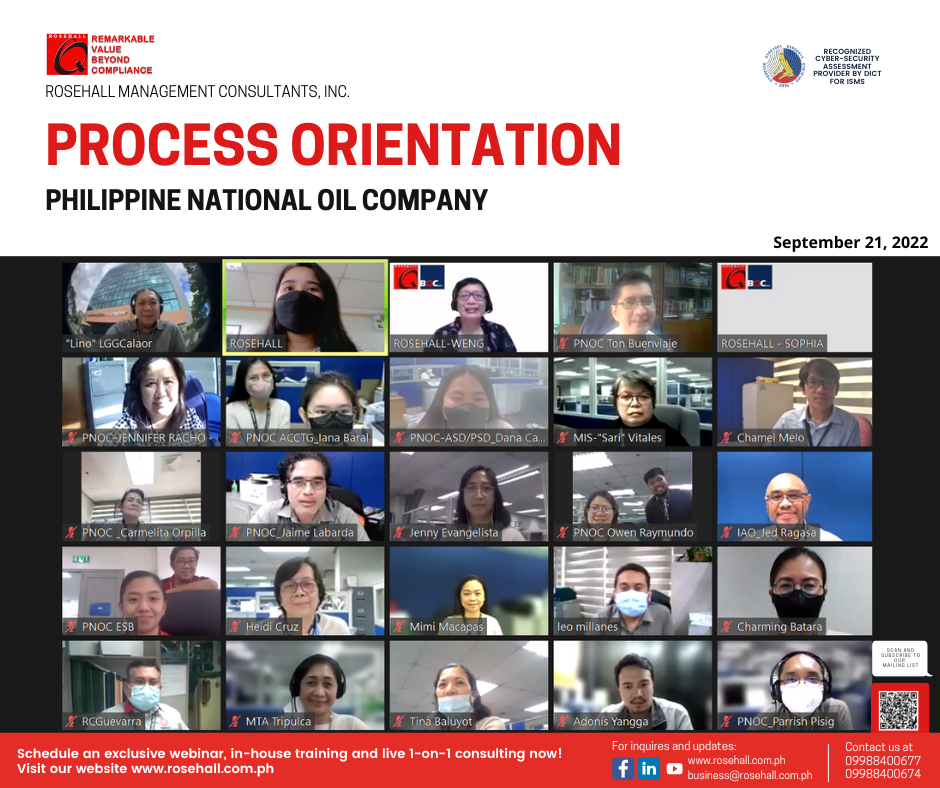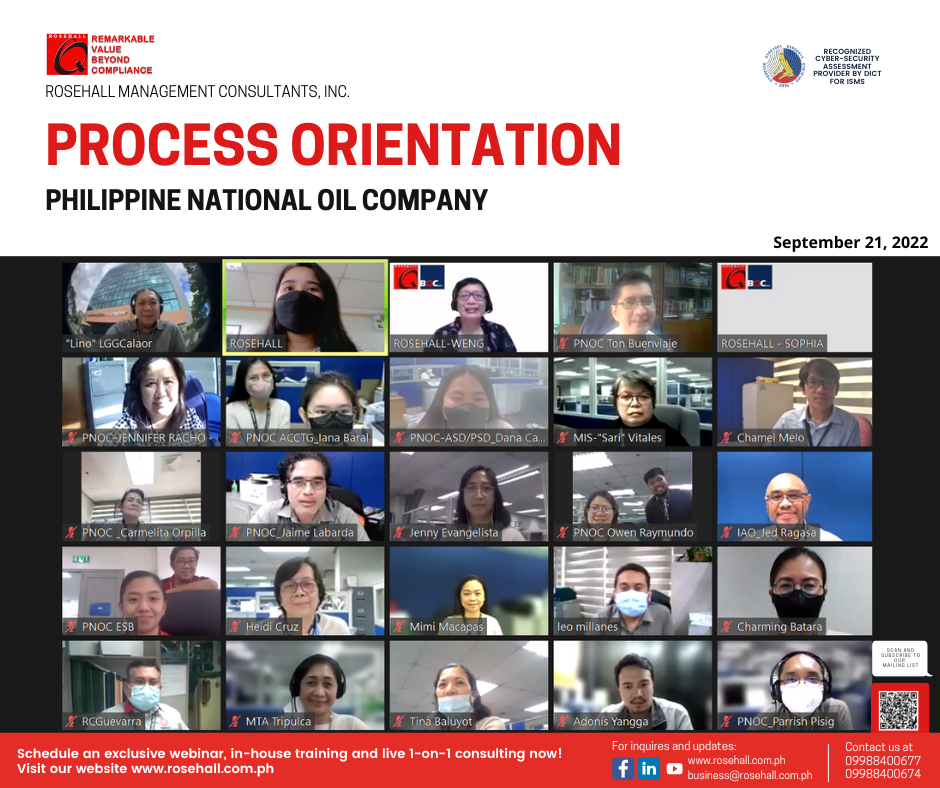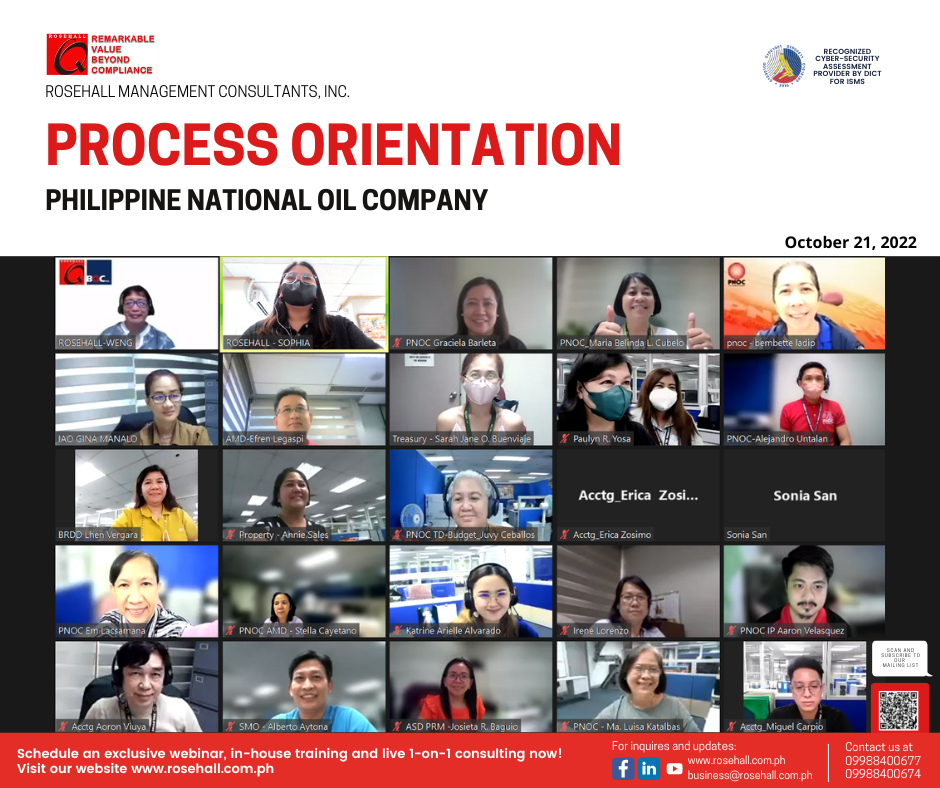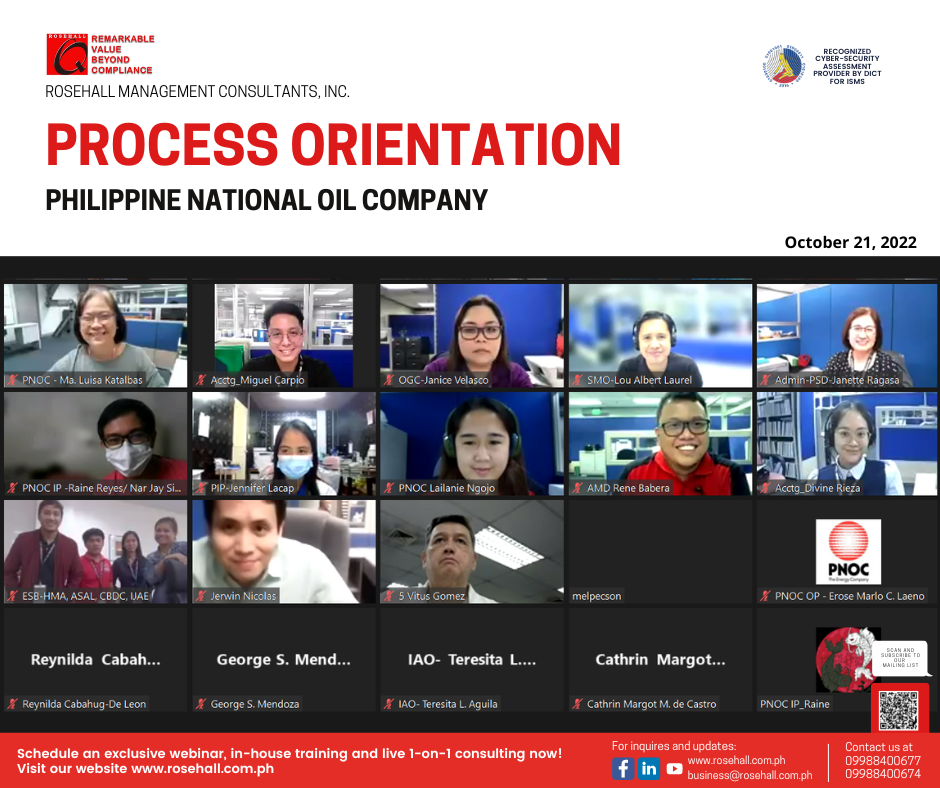 In-House Training and Consulting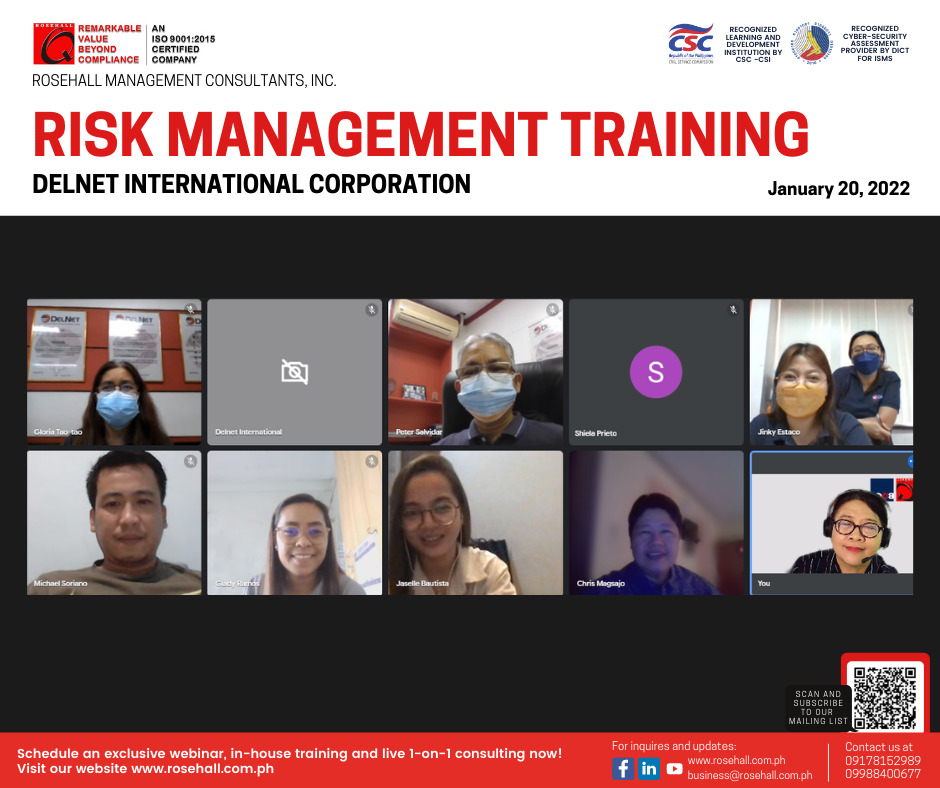 Delnet International Corporation
"We highly recommend the management of any organization to attend this course. ROSEHALL always gives the best training and workshop and has excellent speakers."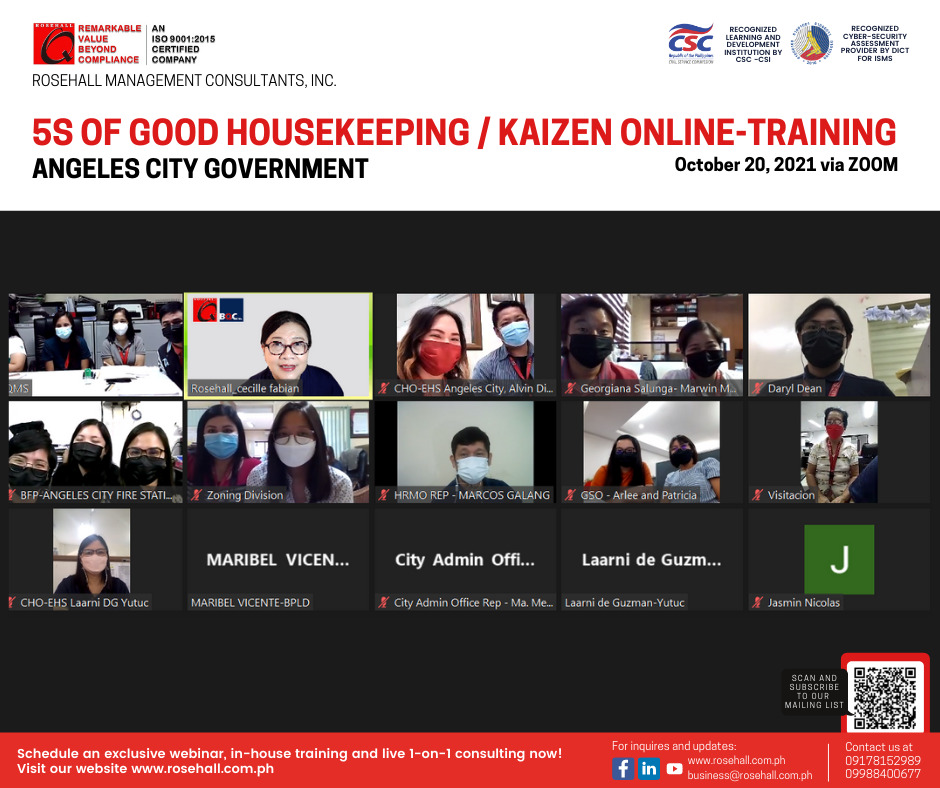 Angeles City Government
"Highly Recommended! The flow of the course is easy to understand. All information is very efficient."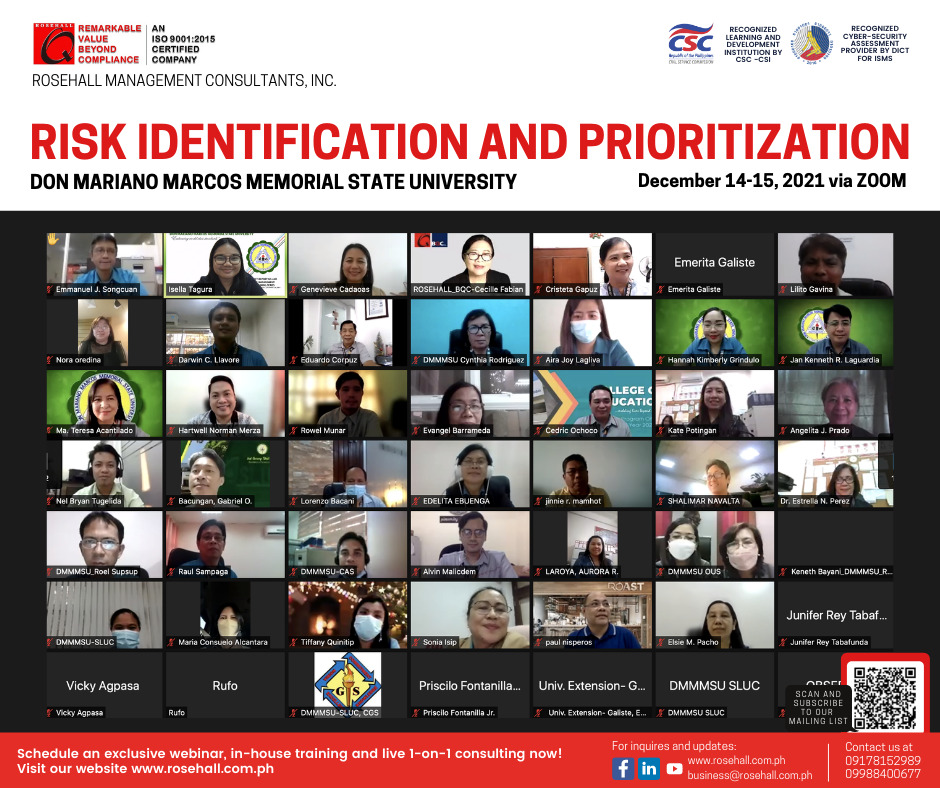 Don Mariano Marcos Memorial State University
"ROSEHALL provides high-quality training and workshops with highly competent and experienced speakers/facilitators."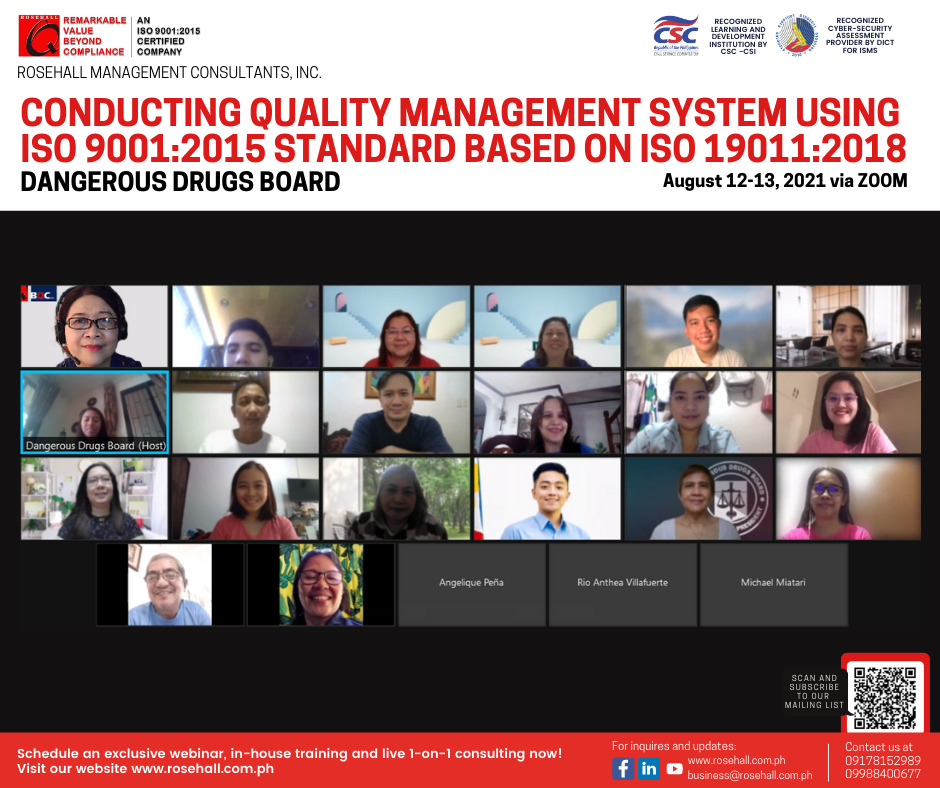 Dangerous Drugs Board 
"The course is interesting. It is very informative and useful to our organization!"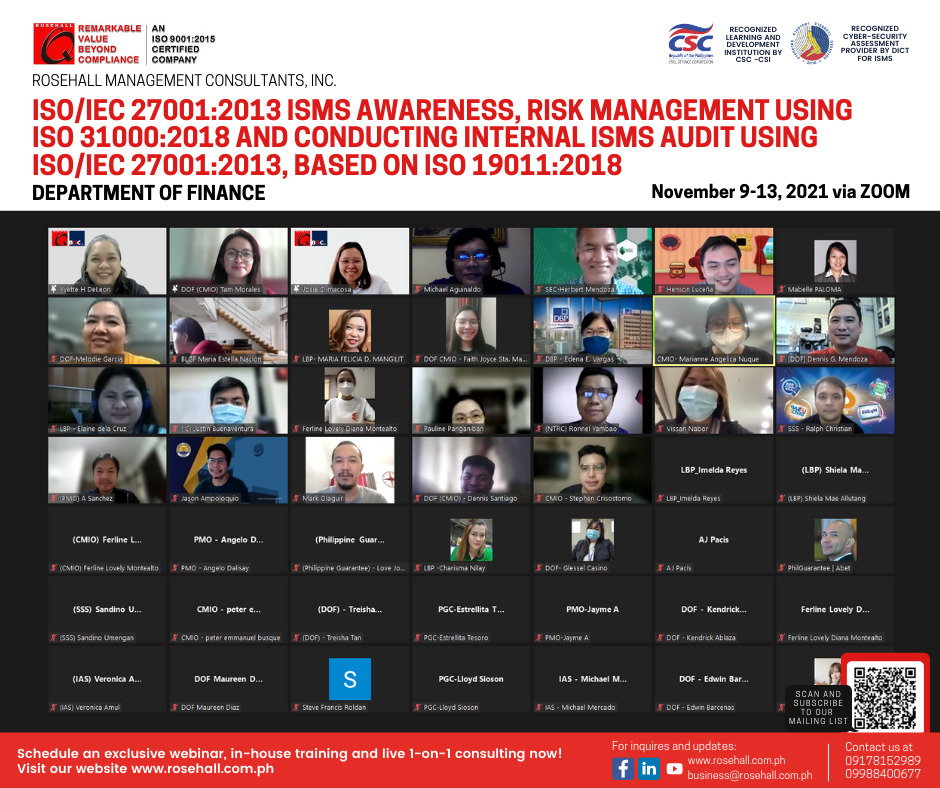 Department of Finance
"I've learned so much with regards to ISMS Internal Audit including conducting the audit, preparing the audit, conducting audit follow-up, and competence & evaluation of auditors."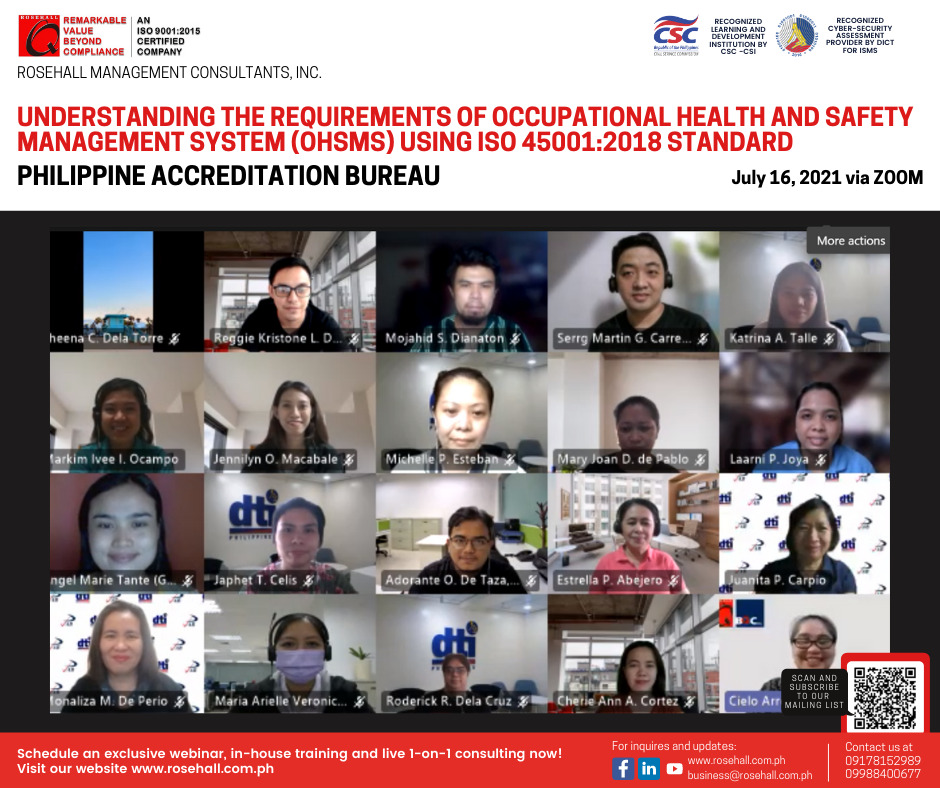 Philippine Accreditation Bureau
"This course will broaden your knowledge when it comes to occupational health and safety especially the working class since they are part of their respective organizations so they must be well-informed."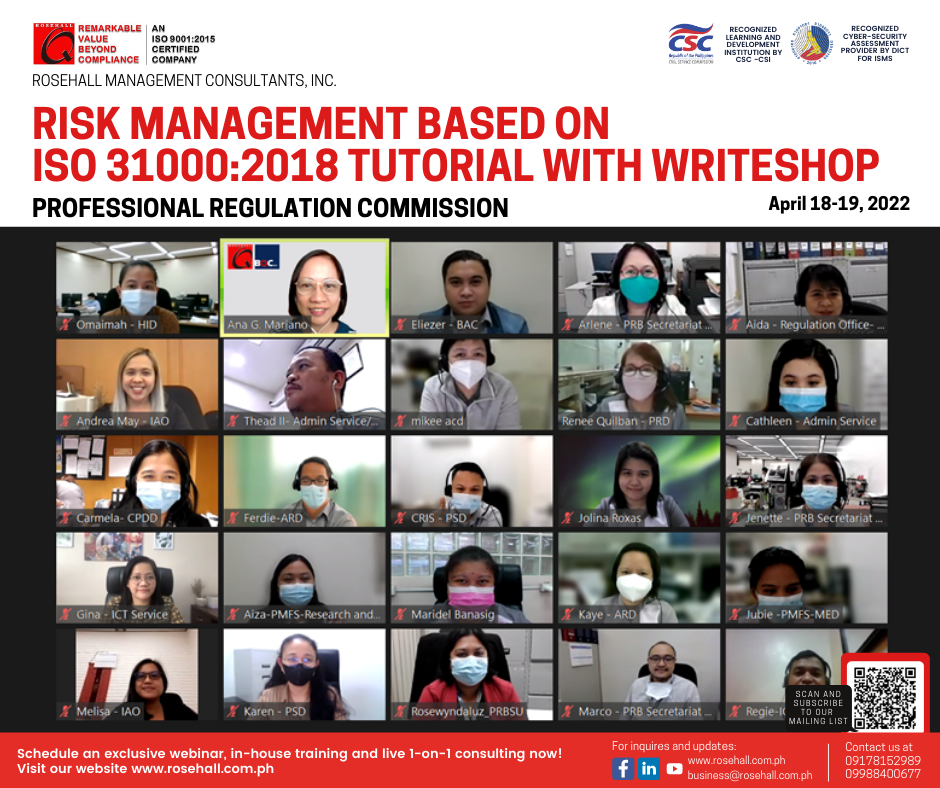 Professional Regulation Commission
"I will highly recommend this course. It really exceeded my expectations compare to the previous ISO training sessions conducted by different consultants. ROSEHALL provides easy learning of complicated topics on ISO Standards."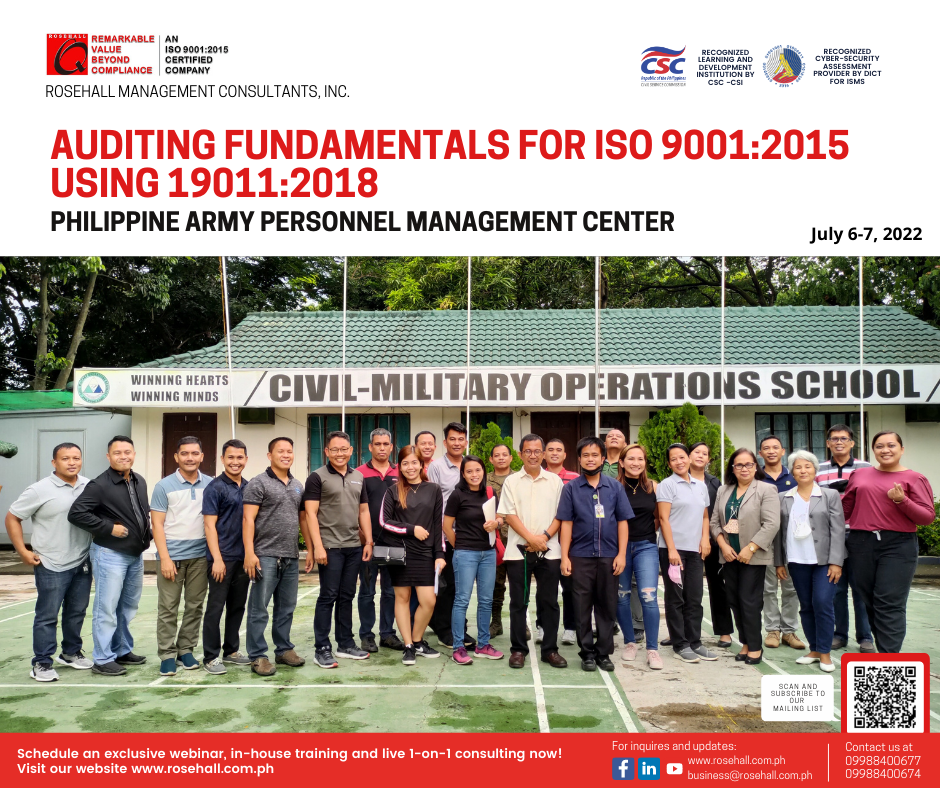 Philippine Army Personnel Management Center
"This course has helped me to learn about the ISO 9001:2015 Standard and my important role as the center's QMS. It should be taught if possible to all the unit personnel. Our consultant has exerted a lot of effort in explaining the course."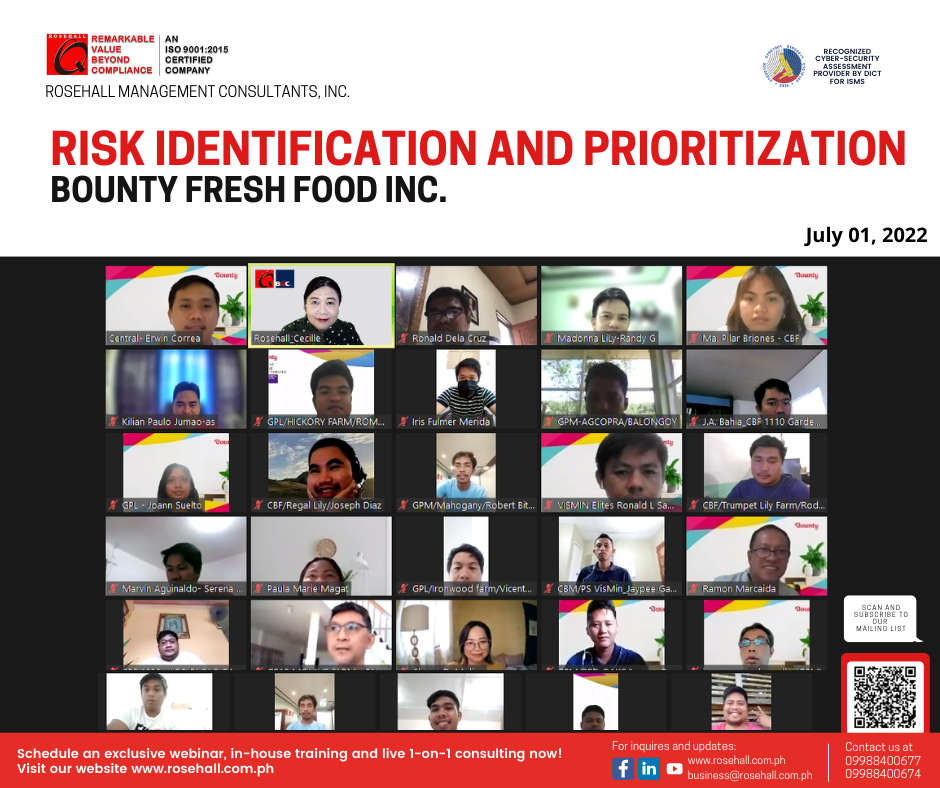 Bounty Fresh Food Inc.
"The module course is thoroughly discussed by our consultant, there is also a workshop where we can apply all the learnings and turn it out into an output."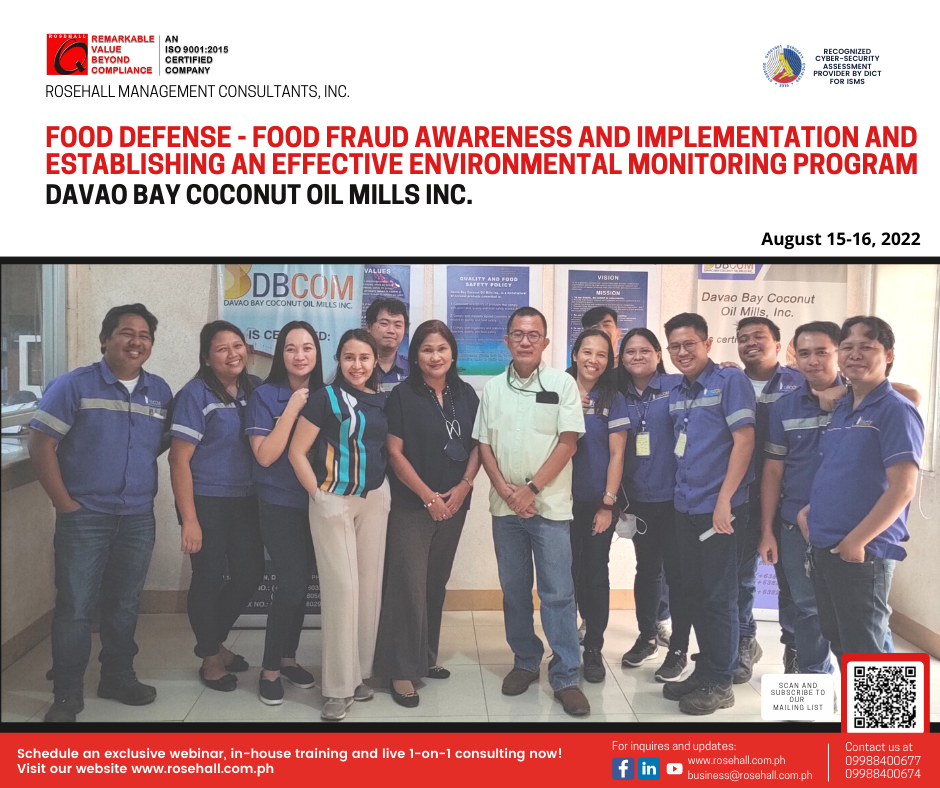 Davao Bay Coconut Oil Mills, Inc.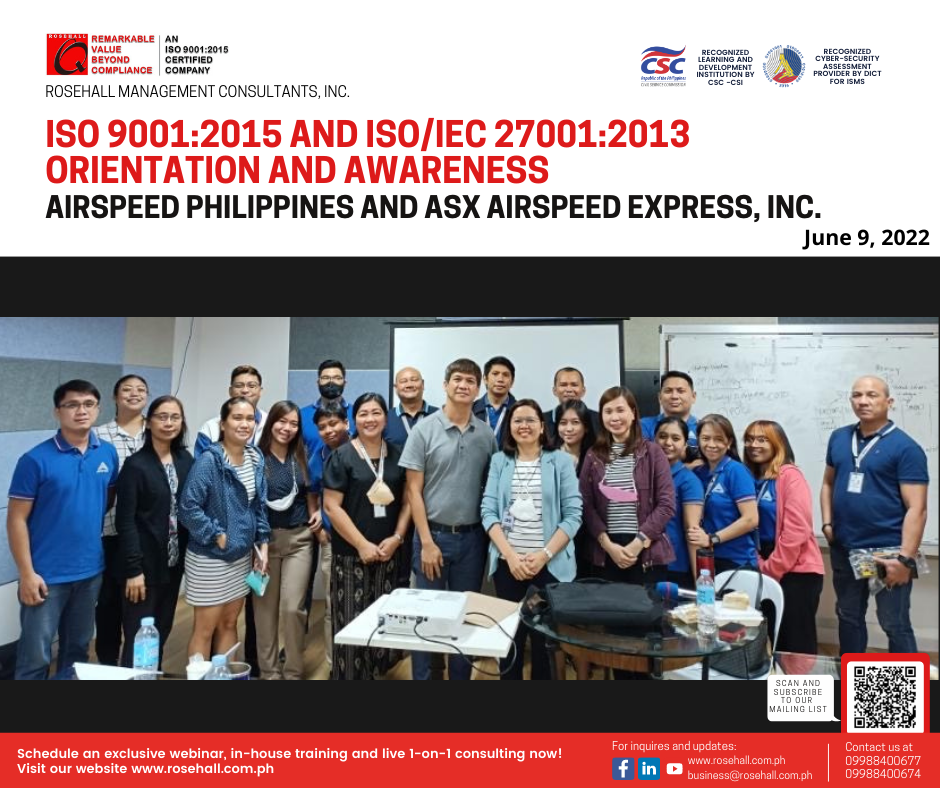 Airspeed Philippines and ASX Airspeed Express, Inc.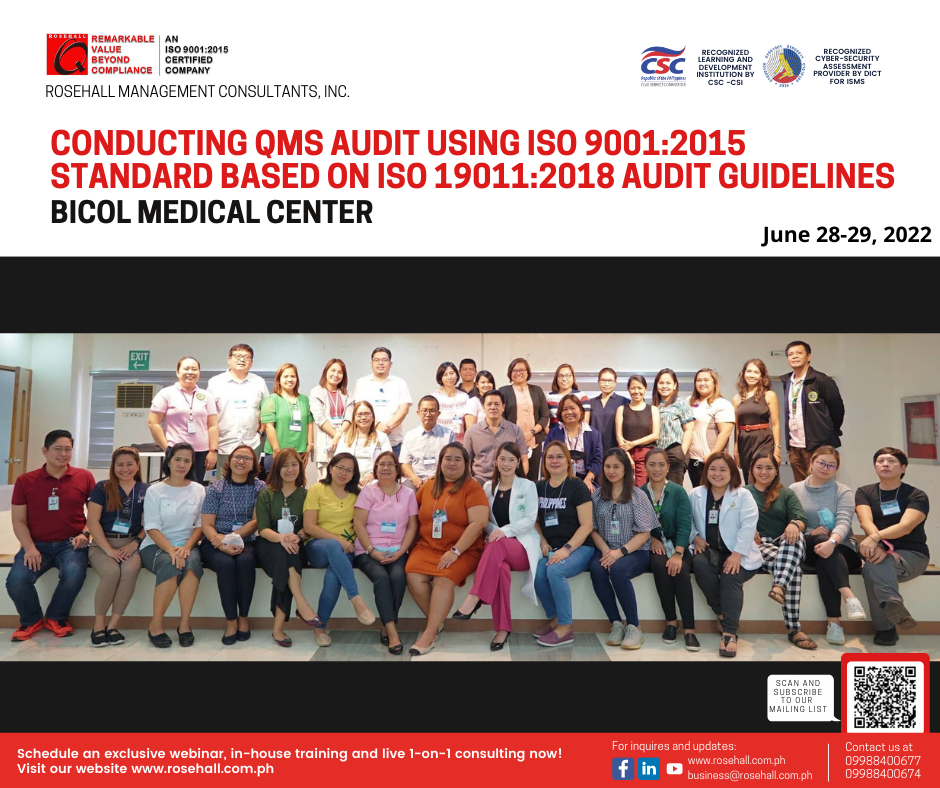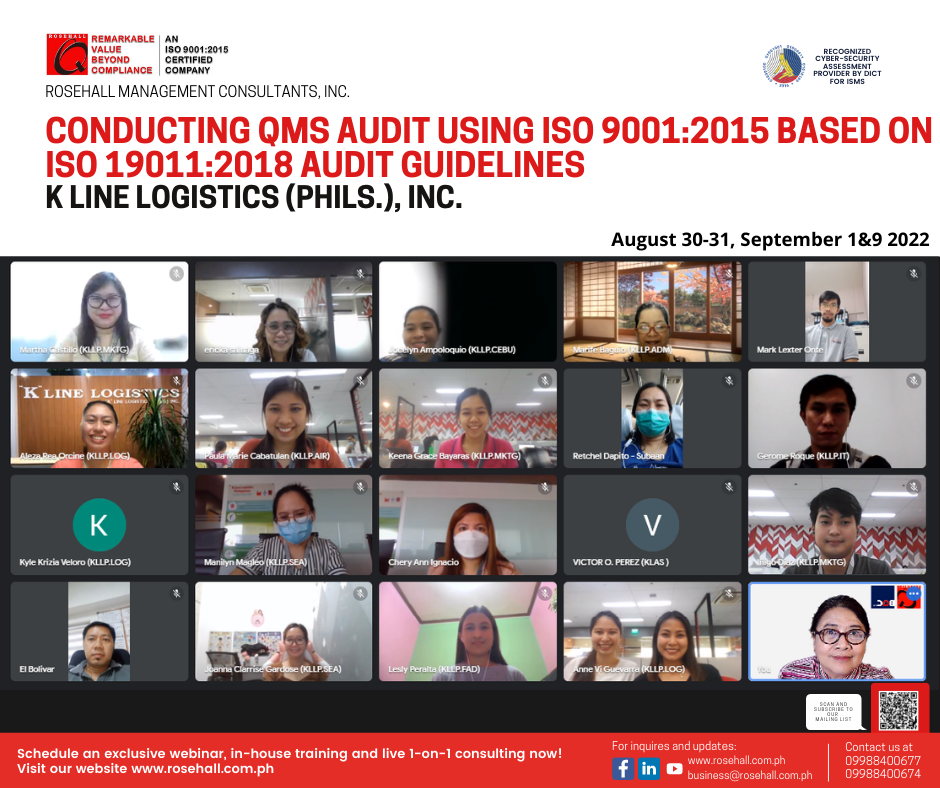 K Line Logistics (Phils.), Inc.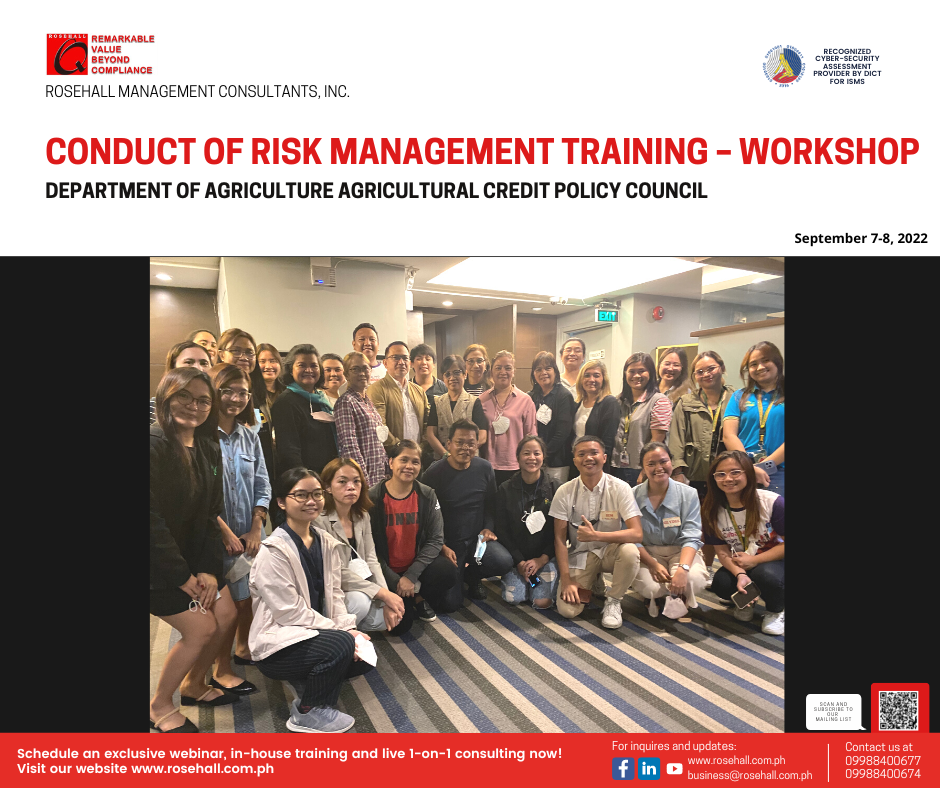 Department of Agriculture Agricultural Credit Policy Council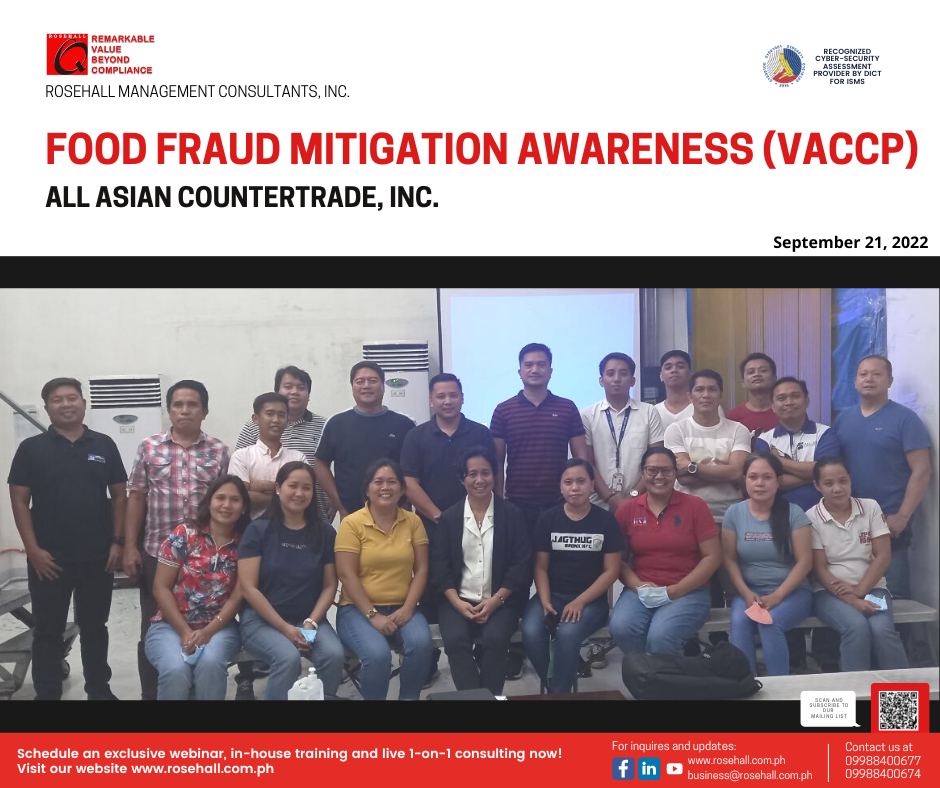 All Asian Countertrade, Inc.